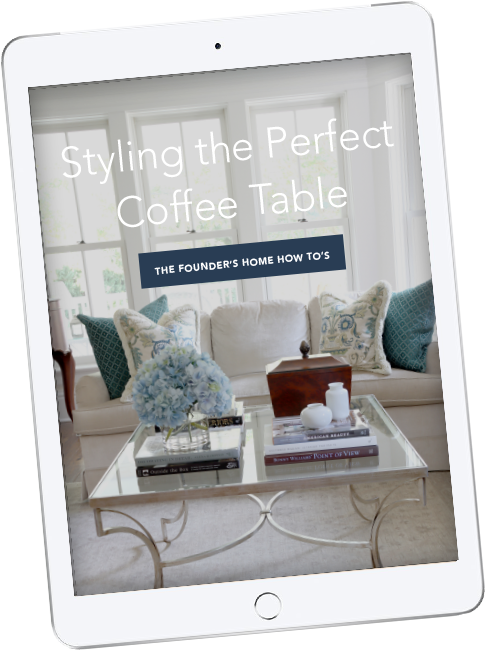 Learn how to style the perfect coffee table.
5 complete looks with shopping links!
Design Mistake #1: Keeping Things You Don't Love
I'm always talking about how the things you bring into your home should bring joy, but what about the things that don't? 
Of course, we all have those things—furniture that's been passed down, something we loved in the store but not so much when we brought it home, or stuff that has been part of our environment so long that we don't even notice it anymore. I see it all the time, and in most cases, there is some angst around these pieces.
One client had a room full of hand-me-downs; way too much furniture for the room—all different styles and colors. She had at least 6 table lamps and not one pair in the bunch. She was miserable and didn't use the room because she didn't feel good in the space. This hodge-podge collection of furniture was given to them because they didn't have anything when they first moved into the house. They welcomed anything they could get, but now she felt stuck because she wanted to move forward and didn't know what to do with all this stuff.
We've all done it, bought something we thought we would love, and it just isn't all that when we get it home. It can happen with a food you want to try, a piece of clothing, or something for your home. Unfortunately, something for your home usually ends up in plain sight every day, while the others are long gone (food) or in the back of your closet (clothes). So now we have that constant reminder of a mistake we've made and spent our hard-earned money on. Ugh!
I have a custom-made sofa, and it was made just when performance fabrics started to be a thing…yes, it's 20 years old. If there needed to be an ad for well-built furniture and performance fabrics, this sofa would be the star because it looks brand new–not a stain, not a rip, not a pill, nothing. But I'm over the fabric, and the cushions are starting to be uncomfortable. It's been on my list for some time, but it "still works," so it gets pushed down the list. I was in that room the other day and thought to myself, this room does not make me happy. It's time to refresh because I want to use our space. Time to start planning!
So, how do you move past this on your design journey? 
Recognize that these items are still in your home, meaning they've been easier to live with than get rid of—aka emotional attachment. So, give yourself some grace, but remain steadfast in your determination to create a space that makes you feel good. 
Let's take my client with the overflowing room of hand-me-down furniture. This is how we managed to pare down:
We looked at each piece separately to see if she even liked it.

We even took some things out of the room to determine if it was something that she wanted to keep. Taking them out of the space she was used to seeing them in gave her a clear eye to see them.

We determined what pieces were a definite no for her space.

She tended to want to move them to another part of her house because she felt guilty about getting rid of things.

But we stayed focused on the task and ensured that we eliminated all things she didn't like.  

Of the things she did like, we decided what needed to be done to make them work in her new space.

Some things were fine as is, but others required updating-new lamp shades, reupholstery, refinishing. Based on the needs, we determined what would now make the cut.

She liked a lamp but did not want to invest in a new shade, so that went on the "to-go" list.

Of all the things that made that cut, we looked at everything holistically to see what would work together.

There was a nice mix of pieces that could work well, but some outliers just didn't. We looked to see where she may need these pieces in other parts of the house. Some found homes, and some moved to the "to-go" list.

She took her "to-go" list and reached out to family and friends to see if anyone could use anything.

Some pieces went to new homes, and she donated the rest. This helped ease her guilt about getting rid of perfectly good furniture no longer used in her home.  

We based the new room design around all the pieces she decided to keep,

and the result was a space that reflected HER style but with layers of elements that have some sentimental value and now bring her joy.
She loves her new space and feels better about passing on things that no longer serve her.  
Regarding buying something that didn't work, you can look at step 3 above. Then, take a look to see if it can be used in a different space or if it can be altered to something you may like. 
If both are no, you should cut your losses and move on. Resist the urge to work around a piece you don't like because, most likely, the result will not be what you want. Don't throw good money after bad. 
And if you have that piece of furniture that just won't die, like my green sofa, it's ok to start fresh even if it still works. The beauty of investing in good pieces is that you can reuse them—the sofa frame is in great shape, so we will be reupholstering and getting new cushions. The style, shape, and size are still perfect for the space, so it makes sense to reupholster. However, if the piece had a damaged frame, didn't work in the room, or was uncomfortable, I would not consider reupholstering. In that case, I would start with a new piece.
The key to having a home you love is to make sure you love the things you have in it. 
Be selective with what occupies your space, curate your look, edit often, and always purchase with a plan! And, when you find yourself unhappy with your space, come back here for help on what to do. 
Join my newsletter for weekly design advice and my favorite design inspirations from around the web. See you there!
For more design inspiration, check out our portfolio page here.
You've just read Design Mistake #1, check out the rest of the series here:
#3 Not Designing for Real Life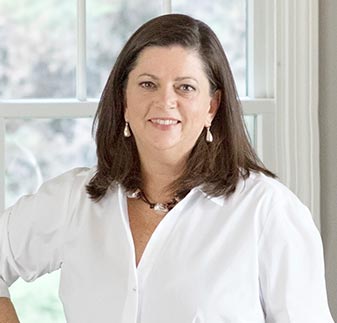 Hi, I'm Molly Hirsch, and I help women founders, executives, and entrepreneurs translate their highly effective work approach to their home design, creating a space that rises up to meet their needs while enhancing the warmth and style of their family home. Discover all the ways we can work together to create a home of your dreams.