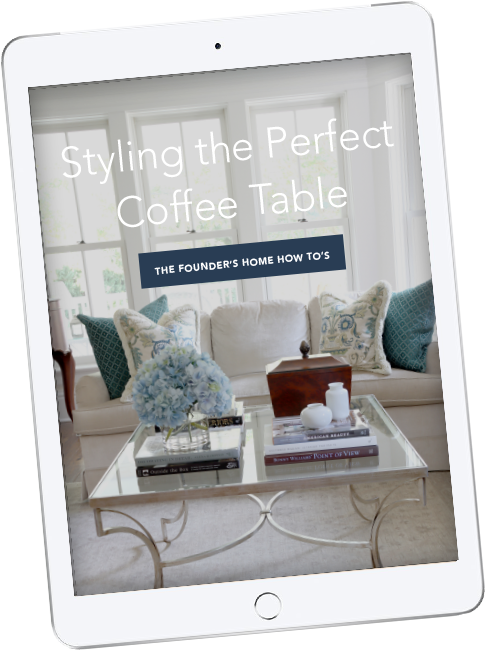 Learn how to style the perfect coffee table.
5 complete looks with shopping links!
The Ease of Entertaining with Entertaining Basics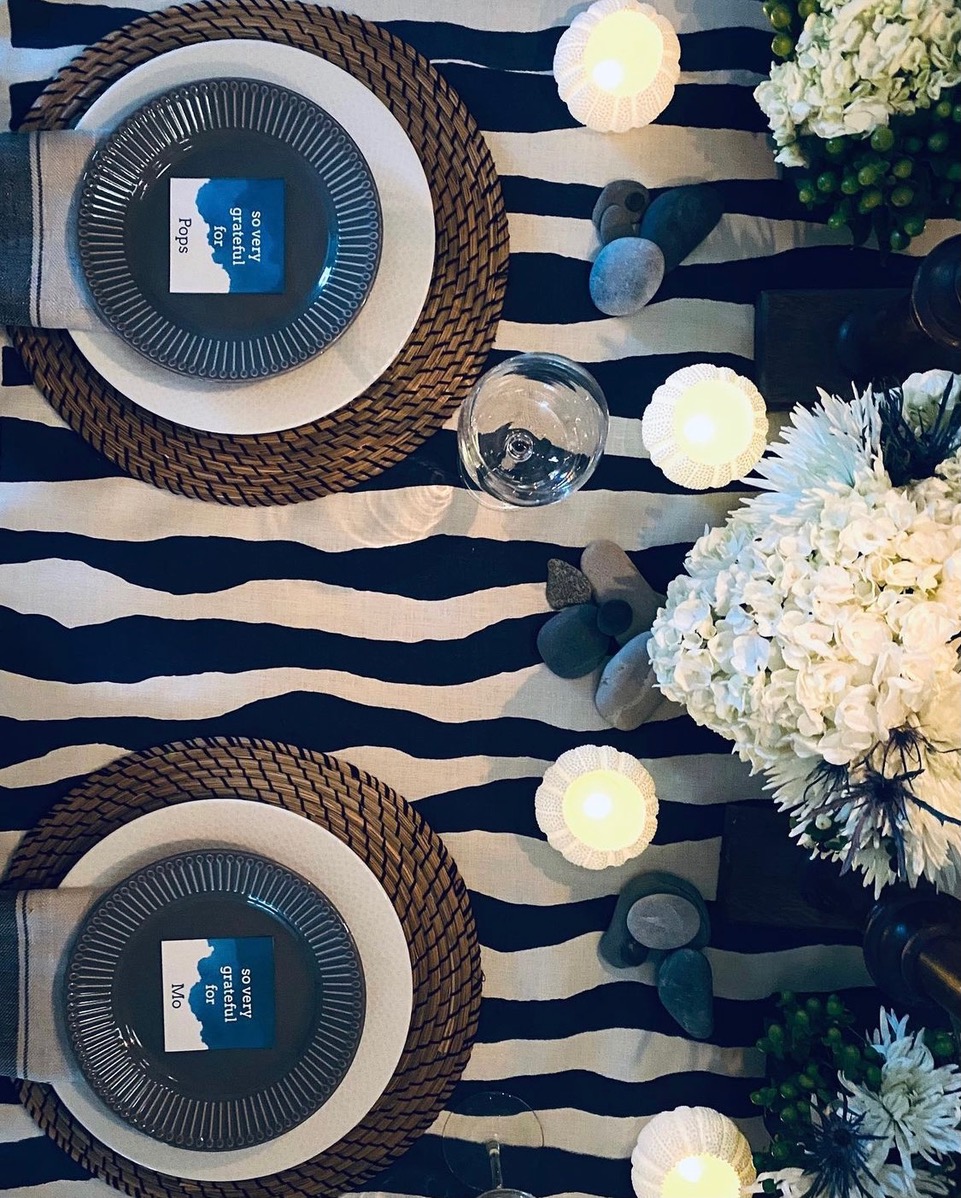 Every year as we roll into the holiday entertaining season, I get tons of questions about table settings.  I like to switch my looks up every year, so it may seem like there is a ton of planning involved, but not so in my case.  My secret is that I have entertaining basics that I use over and over in different ways and then I switch up the look with the accents—flowers, table linens, etc.
My basics fall into 3 categories:
1. My entertaining basics start with white place settings and serving pieces.  My everyday dishes are these and I love them because they can easily be dressed up or down.  I have various white serving pieces that I like to use in untraditional ways: stacked cake plates for appetizers or to hold flowers or candles, etc.  
2. Then I have the pieces that I love to use because they have sentimental value: Simon Pearce serving pieces we were gifted to us for our wedding, antique plates from my grandmother that I like to use as salad plates, candlesticks from my favorite aunt that bring me right back to her setting them on her table.
3. Finally, are the pieces I have acquired with my family: the super cool 4' wood serving board we found on vacation and my husband and kids saw how much I loved it that they went back and not only bought it, but then carried it around Quebec City for the entire day, the super killer fabrics that I found at a Dunes & Duchess sample sale that I love to use as tablecloths, a set of blue glasses we found at a street charity pop up in Baltimore while visiting our daughter for Family Weekend—this is our newest addition this year and I can't wait to use them!
The thing I like most about setting a table is using all of these things that tell various stories of our loved ones.  It is a visual walk down memory lane.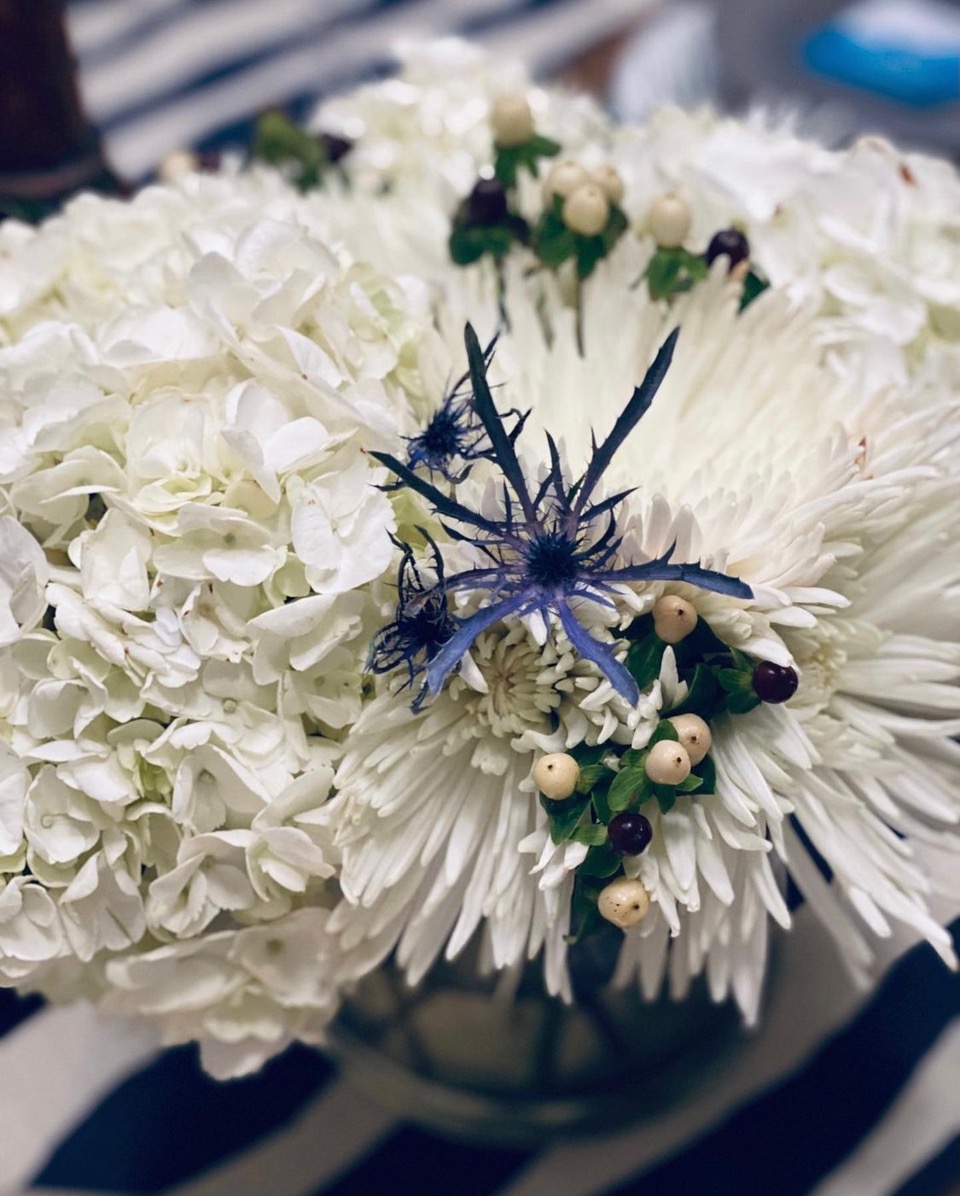 Back to where to start on your table setting.  I start with my focal point—that will be my driving factor for the whole table.  This year, it will be a bold blue and white graphic floral that I found at a Dunes & Duchess sample sale.  When I use fabric, I don't even hem it—I use a basic tablecloth for the base and then I roll out the fabric on top, salvage and all.  On one of my favorite tables that I styled for a client, I used blanket throws I found at Ikea.  Your tablecloth does not need to be a traditional tablecloth—think outside the box—blankets, scarves, fabric, etc
Then I set the table with a mixture of my basics.  Layering is key—mixing textures, patterns and colors.  Once the base is done—I like to do this ahead of time—I decide on the flowers based on the selection at the grocery store.  Yes, I get the flowers when I shop for food because who needs a separate stop.  My favorite is Trader Joes because they usually have a great selection.  Sometimes I use cut flowers, sometimes planted flowers, and other times I have used potted herbs mixed with orchids.  It just depends on what jumps out at me and will work with what is set on the table.
After my flowers are places, I decide on candles.  I love candles in a table setting and usually have them in varying heights—this is based on the flower layout.  If the flowers are tall, I will use medium and low height candles.  If the flowers are at medium height, I will mix high and low candles—ex candle sticks and votives.  If flowers are low, I'll make the candles more of a focal point down the center of the table.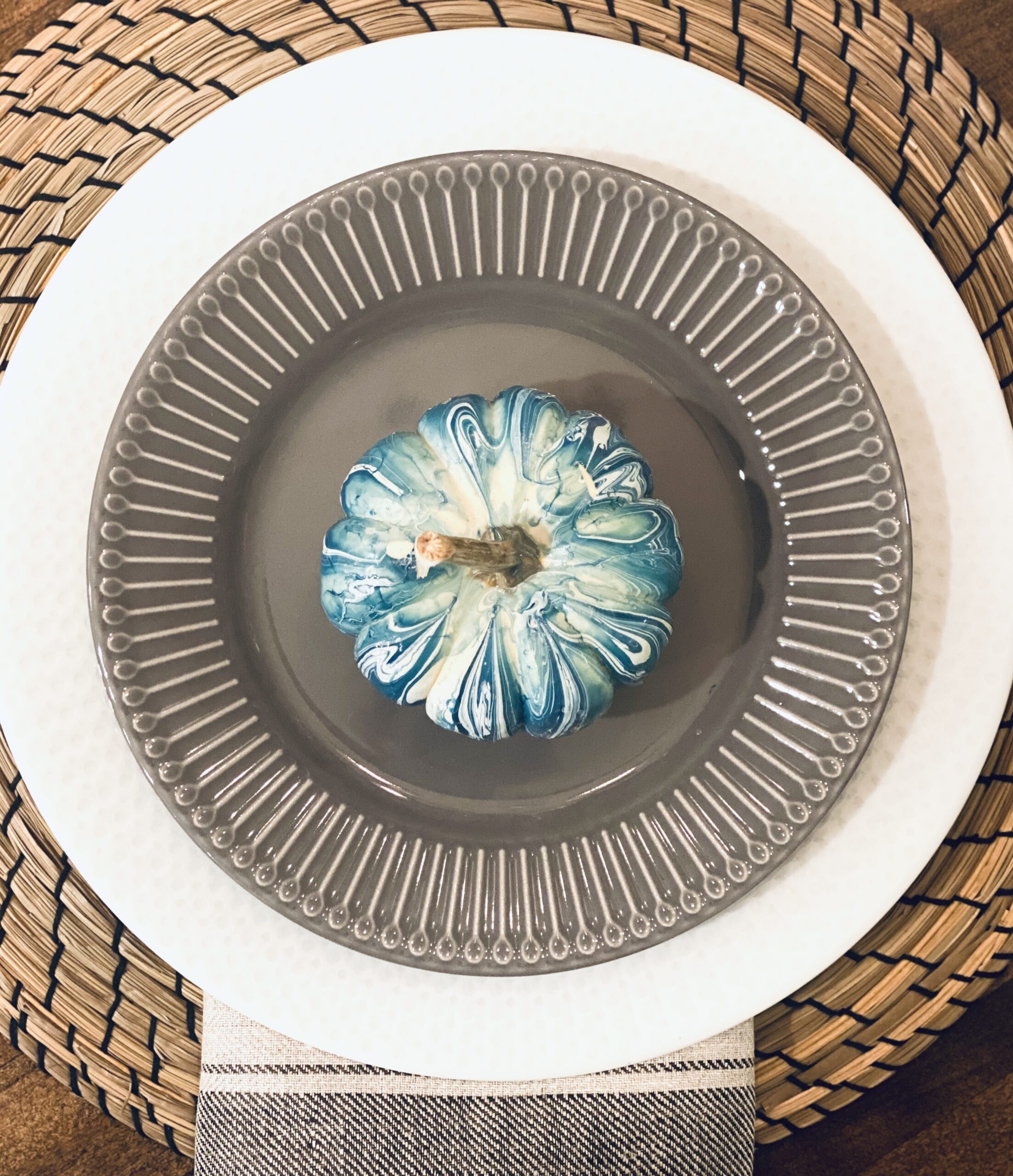 The key is to have fun with it.  Play around.  It doesn't need to be so serious or intimidating.  Start small and build from there.  Having your favorite basics is key to simplifying everything.  When your basics are neutral and can go with anything, you are free to pick up a piece of fabric and some beautiful flowers and create a whole new look for each event.
Be sure to join our mailing list here to get exciting news and a Thanksgiving gift from me to you, later this week!
How to make marbled pumpkins linked here.
See how we created 5 different looks in the same room, just by changing the accessories on a coffee table — It's the exact same concept as using your entertaining essentials. See downloadable linked here.
Links to some of our favorite basics below:

**This post contains affiliate links. This means if you click a link and purchase something, I may receive a small commission from the vendor at no cost to you. I only share things that I love and hope you will too!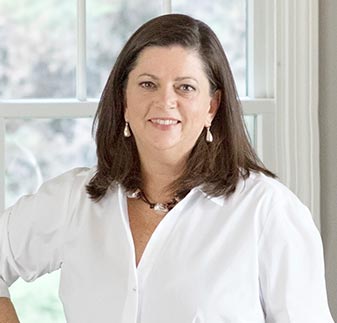 Hi, I'm Molly Hirsch, and I help women founders, executives, and entrepreneurs translate their highly effective work approach to their home design, creating a space that rises up to meet their needs while enhancing the warmth and style of their family home. Discover all the ways we can work together to create a home of your dreams.